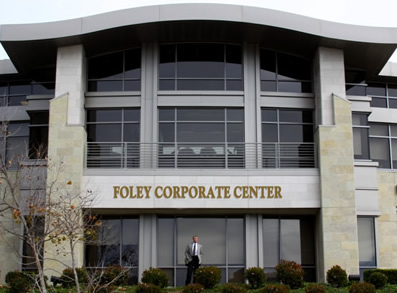 In the beginning
He founded and operated the restaurant chain, Coty Broiler Restaurant and Jazz Club, Inc. with restaurants located in Santa Barbara, Montecito and Ventura, California.
He bought his first piece of real estate for himself and roommates. After selling this initial property and profiting over $100,000, he concluded, "buying and selling real estate certainly beats working". As a result of this initial ambition, he's been buying and selling various types of real estate for over 30 years, ultimately turning over a half billion dollars in total transactions as both principal and owner.
A lifelong entrepreneur, he currently has offices in Bel Air, California, Scottsdale, Arizona and Austin, Texas with over 60 different properties currently in operation. They include apartment buildings, shopping centers, office buildings, hotels and industrial properties.
Presently, he is the founder and chief executive officer of Foley Property Assets, LLC as well as San Diego Land and Cattle, LLC.
Born in East Los Angeles and graduated from La Puente High School, he then attended the University of California San Diego under a Full-Ride Scholarship. He graduated from University of California Santa Barbara with degrees in business economics and psychology. He was the national sales manager for Cogenic, Inc. out of New York.
He has served or is currently serving on The San Diego Economic Development Commission Board, San Diego Business Chapter, Fairbanks Ranch EEC Board, Big Brothers of America, and the Junior Golf Association of America.